Latest News FROM OUR BLOG
Read all the latest Thomson-Shore news, events and happenings right here on our blog.
The employee-owned members of Thomson-Shore are pleased to announce that our Board Continue reading
Tight paper market and price increases still plagued the industry.
Be sure Continue reading
We are very excited to announce that Thomson-Shore is the winner Continue reading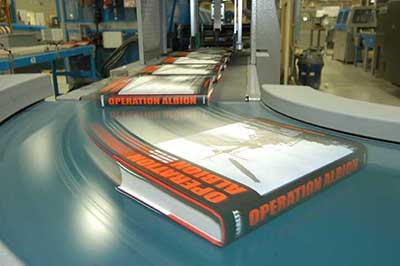 HELPING YOU PUT YOUR BEST BOOK FORWARD
Thomson-Shore is an employee-owned soft bound - case bound book manufacturer with products that will get you from manuscript to reader. There are lots of options to suit your printing and binding needs, offered in quantities of 1 to 200,000 or more. We know how important your titles are, and our employee owners are dedicated to exceeding your expectation in quality and in service.
Offset Paperback and Hard Cover Books - quality color, crisp text
Digital Paperback and Hard Cover Books - using the latest printing technology bringing extreme quality
Distribution to the market - reaching more booksellers and readers worldwide
Read all of our Customer Testimonials Here to find out more!
Thomson-Shore has printed Alaska History since the journal's founding 30 years ago. The company has consistently produced a fine product at a good price. Thomson-Shore's technical staff has been very helpful in answering technical questions and advising on software problems, which has been critically useful for the non-professional volunteers who produce Alaska History.

Jim Ducker,

Alaska History, editor 1985-2015

In the decade I have worked with T/S, I have been immensely pleased by the quality of customer service we have received. Though our enterprise - a literary journal published twice a year, with a low print count - is very modest, we have always felt that our business was important to T/S. Whether it was correcting a problem with a file on our end, arranging for drop shipments, or trying out something new with the journal, the staff at T/S has been helpful and patient (with our own lack of expertise). I recommend them highly!

Valerie Vogrin,

Southern Illinois University – Edwardsville

I have been working with Thomson-Shore for a decade and I'll continue working with them. They know their business and clients. My journal, Letras Femeninas, and my books are printed with love.

Carmen de Urioste,

Letras Femeninas, editor, Arizona State University

I have been using Thomson-Shore for 20 years and they have always given me top notch printing and binding. Lately, as well, they have been printing and binding our journals. True to form, Thomson-Shore has accomplished this with their expected high quality and they are certainly, in my opinion, one of the top printer binders that I have ever used.

Rick Cook,

Production and Design Manager, The University of Alabama Press

We first began using Thomson-Shore because their bid was the lowest among several we received, and we have continued to use them because their quality is the highest. We are very satisfied with all aspects of our jobs and Thomson-Shore … outstanding service, excellent quality control, good advice when we have questions. We could not ask for more from a printer.

Carolyn Lemon,

Ignatius Press

I really like the blacks on the digital printing. They really add punch and depth to the images. Color looks great too in the digital insert.

Kevin Grossman,

Texas A&M Press

Just saw the books and they are beautiful! Since our offset print copies aren't ready, they fill our trade show needs perfectly. Looking forward to our next POD project together!

Lindsay Sablosky,

Chronicle Books