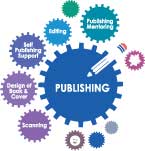 Print on Demand (POD) is defined as printing each book per order. We can do that!
There are three types of Print on Demand: Print to Order – books are set up to print on demand and as retail/wholesale orders come through, we print and fulfill per the demand.
Print to Warehouse – Books are set up to print on demand and a small number are kept in the warehouse for fulfilling orders – print runs are driven by the publisher and are made to fulfill stock requirements in the warehouse.
Print to Publisher – books are set up to print on demand and the publisher requests a number of books print and ship to them (or to someone else).
We do all three of these!
You provide us with files, we upload those files – ready to print books when orders are received. We offer a true one-off model for perfect bound and case bound. Books are ready to receive orders within 48 working hours.
With POD, you do not need to print a quantity of books in advance – we print as orders are received. You do have the ability to print a large quantity any time you need it. POD accommodates real time information in your book. You can make changes to your book and re-upload files, when you need to.
Options include:
Publisher Driven: You receive orders from your own website and collect payment. You then send us the order information to print and ship books.
Order Taking: You place a link to our order taking system on your website, customer place orders and we collect the money, then print and ship. You receive a monthly statement with the details.
Retail Channel: Our Retail Channel partners will work with Thomson-Shore to sell your title through their stores. With every purchase, they will take a sales commission and send the remaining payment to Thomson-Shore. We will in turn, take a commission and send the remaining payment to you. The benefit is you never need to manage the accounts, deal with the money transactions, or determine who owes what. You just let us set it up and we'll take care of the rest. You'll receive a statement with the details.
For more information and discussion regarding your needs, Contact us today to get started.  We'll walk you through all the available options and provide a pricing quote specific to your needs.
Request a Quote for Publishing